The Balloon Association of Greater Illinois
The Balloon Association of Greater Illinois was formed in 1990 as a way to connect balloon pilots and crew together to improve the sport of hot air ballooning. The Club started in the Champaign-Urbana, Illinois area at that time, but now includes pilots and crew from several states. The Club includes over 90 members and nearly fifty different balloons.
The site is currently be re-built, but it mostly functional. Check out the new BALLOON RIDES page.
Also, we have some new balloon pictures on the CLUB BALLOONS page.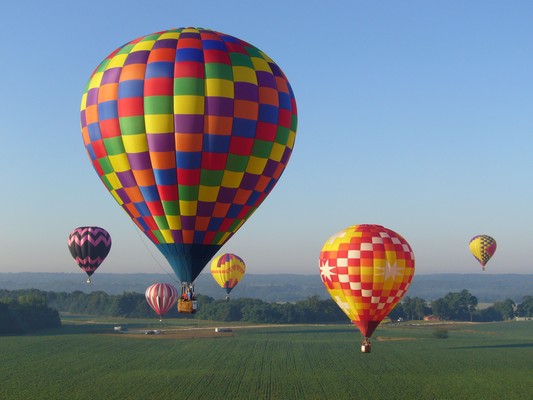 NEWS
BAGI Member Dave Champion featured in WCIA3 TV Spot - June 11, 2013
Dave was featured in an Our Town segment. The story can be found at
http://illinoishomepage.net/fulltext?nxd_id=500322
Club Picnic was On Fire
Thanks to Terry and Janet Ladage for opening their hanger for our club picnic in May.
During the event, we were taught how to properly use a fire extinquisher. This was a supervised activity, and since most of us had not used one, it was good experience in the event we actually need to use one.
It was flaming-good fun!
Event List
Here is a list of events BAGI members usually attend. Click on Event List